One-Eyed Horse–SASS Edition DVD with Bonus Content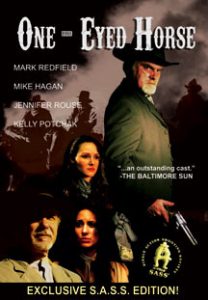 $10.00
$3.00 Shipping & Handling
Exclusive Single Action Shooting Society (SASS) Edition of a classic western tale of obsession and revenge.
Starring: Mark Redfield, Mike Hagan, Jennifer Rouse and Kelly Potchak.
Bonus Features
The Guns of One-Eyed Horse: Host Chuckaroo (Chuck Crooks) and Train Robber (Wayne Fletcher) discuss the authentic antique firearms used in the film.
Shooters on the Set: Meet cast and extras that are also members of the Single Action Shooting Society! How they got involved with SASS, the movie ONE-EYED HORSE, favorite westerns and more!
"You Can't Fall In Love With Her" Music Video: See the Lemay Sister's saloon number uncut! Music by Bob Malone featuring Micci Samperi and LaDon Hart Hall
The Blackmer Family–A Hollywood Legacy: Mad Jack Black (actor Sidney Blackmer) talks about the careers of his Hollywood parents, actors Suzanne Kaaren (Phantom Ranger (1938) and Sidney Blackmer (Heart of The West [1936], Rosemary's Baby [1968])
Widescreen | Runtime: 2 hours, 18 minutes | Not Rated. Recommended for ages 13 and up.